Cancun to Merida: 6 Best Transportation Options in 2023
---
Wondering how to get from Cancun airport to MERIDA?
You're in the right place because I lived in Merida for many years and have done this trip quite a few times. In this article, I'm going to help you find the best Cancun to Merida transportation for you, no matter your budget.
Whether you need info on the Cancun to Merida route or Merida to Cancun route — you basically have six transportation options, and you'll learn about all of them in this article!
the best way to get from Cancun airport to MERIDA?
A private shuttle service is by far the easiest, fastest, most stress-free and hassle-free way to get from Cancun Airport to Merida with door to door service! You can book below with the Tripadvisor-backed company I recommend ⤵
As a short overview, you have the six options for how to get from Cancun to Merida listed below. For more info on each option, click on the corresponding links below ⤵
Ready for a thorough breakdown of all your options? Keep reading to discover all six ways for how to get from Cancun to Merida — including the two I don't recommend using!
How to get from Cancun to Merida Mexico: 6 Options
As mentioned, the best and easiest way for groups of 3+ is to book this private transportation from Cancun to Merida.
For solo travelers, couples and groups of less than 3, there is a private car service that's about $100 USD cheaper.
While the bus is the cheapest way to get from Cancun to Merida, it can take double the amount of time. If you're OK with your Cancun to Merida trip taking up to 8 hours, then consider the ADO bus, which is Mexico's largest bus company.
Getting a rental car at the Cancun Airport is another great option, and if you decline the insurance, Mexico car rentals can be quite inexpensive. Note: I don't recommend doing that, but I know many people do it!
Barring an emergency, I don't recommend the flight, Uber or a taxi.
Best Way to Get from Cancun to Merida
1. Private Transfer from Cancun to Merida
▶︎ Best for: Families; Groups of 3 or more; Those concerned with social distancing
As a Merida local, I always recommended Cancun Airport Transportation, especially for travelers who want to maintain social distance, and groups of three or more.
This company has an impressive 4.5 star rating and 2,500+ reviews on Tripadvisor — and is the best private transfer Cancun to Merida service!
If you are traveling in a couple or small group, this can actually be quite economical if you're splitting the cost.
Whether you're in a group, couple, or just want private transport from Cancun to Merida for health and safety reasons, here are five reasons I say it's your best option:
1. Leave on Your Schedule
With the private shuttle, you set the departure time. If your flight is a bit late, there's a delay with your luggage, a long line at Customs, etc. — your private shuttle will be right there waiting for you.
2. Bilingual Driver
With Cancun Airport Transportation, you're guaranteed an English-speaking driver from Cancun to Merida. For those who don't speak Spanish, having a bilingual driver is a nice perk — especially after a long day of traveling to Cancun!
🧡 Your driver will be easy to find: Just look for the orange sign with Cancun Airport Transportation's suitcase logo.
3. Door to Door Service
With the private shuttle service, the driver will meet you outside with a greeter sign (see above), waiting for you immediately as you exit the Cancun Airport.
They will pack up your luggage, and drive you straight to your Merida hotel or Merida Airbnb.
Keep in mind that if you take the bus, you'll then have to take an Uber or taxi to your accommodation. Depending on where you're staying in Merida, plan for about $200 MXN pesos ($10 USD).
4. Nice Cars, SUVs and Vans
Cancun Airport Transportation guarantees you're in a new, insured, vehicle that has new and air conditioning. Want a luxury car or SUV? You have options for SUV transportation in a Yukon, Suburban or Expedition! ▶︎ BOOK HERE for a Luxury SUV Rental
5. Fastest Option
As time is always the most precious commodity while on vacation — and no one seems to have enough of it — it makes sense to spend a bit more money, so long as you save a good chunk of time!
what other have said about Cancun Airport Transportation
We will use again. Great vehicle. great driver. Would recommend this service. Just exit the airport doors and look for someone holding a sign. —Sean C., Read more reviews here
On time, both times. Cars are super nice. Driving was great. Totally worth it. Flawless pickup and drop off. —Kory R.
Awesome guys, easy to reschedule if you need to. —Zsolt
Book your Cancun to Merida private transport
Best Way to Get from Cancun to Merida
2. Cancun to Merida Car Service (Private Car with Driver)
▶︎ Best for: Groups of 3 or less passengers; Couples; Solo travelers; Those concerned with social distancing; Travelers with pets
Booking this private car with a driver is perfect for those doing solo travel in Mexico, couples, and small groups of 3 or less. With this car service, you'll save $100USD versus using the private shuttle service — and they even allow pets 🐶😺
what other have said about this car service
We were driven from Cancun to our resort near Merida by Argel and returned by Polo. Both of them were great to spend time with and we were very happy with the service. They are punctual and professional. Thank you Argel and Polo! —Robert, Read more reviews here
Polo and his drivers put a lot of heart into making us comfortable on our trips between Cancun and Merida. The cars were in decent shape, equipped with water and pillows. They were on time or early, and accommodated changes we asked them to make. They knew their way around both cities. —Shirley
Best Way to Get from Cancun to Merida
3. Cancun to Merida Drive (Cancun Airport Car Rental)
▶︎ Best for: Anyone who wants to take a lot of Merida day trips; Anyone doing a Yucatan road trip; and Anyone who want to be on their own schedule; Those concerned with social distancing
Besides the two private transport services mentioned above, getting a Cancun car rental from the airport is your next best option. Disclaimer: For those who just plan to relax in Merida — skip the rental car and opt for a private shuttle or private car, since Merida is walkable and there's Uber.
However, if you're planning to do some Merida day trips to nearby Valladolid, Chichen Itza Mayan Ruins, the Merida cenotes, the Merida beaches, etc., then a rental car is the way to go. For car rentals, the best place to get one is in Cancun Airport, as it will have the best selection.
When booking a car online, I recommend and do personally use Discover Cars. They are great because they search both local Mexican companies and large international corporations, so you get the best rental rates. ▶︎ BOOK NOW with Discover Cars!
Discover Cars also has ratings for all companies, so make sure to eliminate any that don't have a good reputation. Finally, you can buy Mexican car insurance right from Discover Cars, so you're not surprised with an unexpected bill when you pick up the car.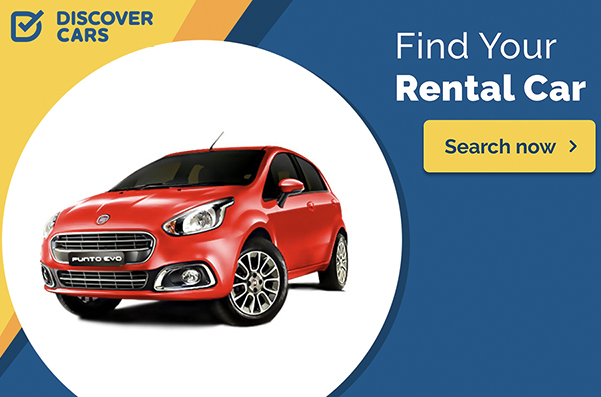 Best Place to Rent a Car in Cancun
Cancun Airport car rental rates may seem to be slightly more than off-site rentals. However, airport rentals simplify the process and save you time.
Also, you'll likely spend more on taxis getting to the offsite rental agency than you'd pay in extra airport rental costs — so just rent at Cancun Airport!
How much are Cancun car rentals?
Mexico car rental rates will always vary, but figure about $20-25 USD per day for an economy car with the minimum Personal Liability Insurance, and about $30-35 USD per day for full coverage.
If you've looked for a Mexico rental car online, you might have seen $5USD rentals. If that rate seems too good to be true, that's because it is. This is the base price for just the car — not including insurance, taxes, fees, etc., factored in.
To be safe, assume any car will actually be $25 per day.
Note: This is what's known as the Mexican car rental scam. ▶︎ Head here for more info that and other common tourist scams in the Yucatan Peninsula.


Do I need Mexico Car Insurance?
Yes — At the minimum, you need Personal Liability Insurance to legally drive in Mexico.
If you're paying out of pocket, this is about $15-20USD per day. Some people have coverage through a credit card, though this can be a tricky claims process, should you have to use it, so beware if you decline insurance.
▶︎ Head here for more info on car insurance for Mexico.
a few Tips for Renting a Car at Cancun Airport
Take photos and even videos of all scratches, dings and dents on the rental car's exterior. After that, do the exact same thing for the car's interior, making note of any rips in the fabric, stains, etc.
If you intend to decline insurance, have some information stating your credit card is covering you — as all drivers must have proof of the minimum liability coverage.
Some companies will not let you take the car if you decline their insurance, so be prepared with a backup plan.
Is it safe to drive from Cancun to Merida?
In general, going from Cancun to Merida by car is considered safe. If possible, don't drive at night, stick to the toll roads (info on this below ⤵), don't speed, don't be on on your phone — and you should be safe, and give the police no reason to pull you over.
There are basically two ways you can drive from Cancun to Merida — but the best way to drive to Merida from Cancun is on Highway 180D (Carretera Cancún – Kantunil). This is a cuota, or toll road, and cuota roads are always better maintained and safer than free roads in Mexico.
Note: An economy or compact car is fine for this road, but a bigger car or SUV is better if you're exploring other places in Yucatan.
Cancun to Merida Map
Additional Mexico Driving Tips
Just like in the U.S., you drive on the right side in Mexico.
Beware of topes in Mexico! Topes (pronounced toe-pays) are speed bumps, and they can be anywhere, even on highways. There generally aren't signs for topes, so keep your eyes on the road.
Mexico speed limit signs are in kilometers per hour, not miles per hour. Don't worry about doing conversion math; just make sure your speedometer number matches the signs' number.
Keep your car rental paperwork (ie. proof of insurance, car rental agreement, etc.) in the glove compartment or somewhere handy.
Head to this article, Renting A Car in Mexico: Everything You Need to Know, for more Mexico driving tips.
Best Way to Get from Cancun to Merida
4. Cancun to Merida Bus (ADO Bus)
ADO is Mexico's largest bus company. They operate a fleet of luxury and premier quality buses, all over the country, not just in the Yucatan Peninsula. In fact, taking the Mexico ADO bus is just as popular as flights in Mexico, especially for off the beaten path Mexico destinations.
Cancun to Merida bus schedule
The ADO Cancun to Merida bus departs from Cancun Airport about every 1-2 hours, from Terminals 2, 3 and 4. Most flights from the U.S. arrive at either Terminal 3 or Terminal 4, but you can click here to see which Cancun Airport terminal your airline will arrive in.
There are a few "classes" of ADO buses when taking the bus from Cancun to Merida that you can take, and the schedule will depend on which class you're planning to take. Their schedules are below ⤵
ADO Primera — Clase Primera (First Class), their basic buses, which are still nice
ADO GL — Gran Lujo (Deluxe Class), one class up from Clase Primera, with nicer amenities
ADO Platino — Clase Lujo (Executive Class), the best ADO buses they have, which are the Merida to Cancun bus equivalent of flying first class!
ADO Conecta — also called ADO OCC, which is a small shuttle van that goes from Cancun Airport to Merida Airport. For a four hour drive, it's not very comfortable to take this small van, so I'd say to only use it as a last resort. There is just one departure from Cancun Airport, at 7:30pm.
ADO primera Schedule
The red ADO Primera buses leave the most frequently, with departures at these times: 1am, 5am, 6am, 7am, 8am, 8:10am, 9am, 10am, 11am, 11:20am, 12pm, 12:30pm, 1pm, 2pm, 2:30pm, 3pm, 4:30pm, 5:30pm, 6pm, 7pm, 8pm, 9:30pm, 10pm, 11:30pm and 11:59pm.
These times are for the main CAME bus station in Merida. There are two buses that go to the Fiesta Americana Terminal at Paseo 60 daily, one at 4pm and another at 5pm.
ADO GL Schedule
The purple ADO GL buses have these departure times for the CAME Merida terminal: 2:30pm, 3:45pm, 5pm, 6:45pm8:15pm and 11:30pm. There is only one bus that goes to the Fiesta Americana Terminal at Paseo 60, leaving Cancun Airport at 10:30am each day.
ADO Platino Schedule
The blue ADO Platino buses have three buses that go to the Fiesta Americana Terminal at Paseo 60 daily, at 7:15am, 2:15pm and 8:45pm. There is one additional bus that leaves Cancun at 5:15pm for the Altabrisa terminal in Northern Merida.
🚌💨 For more info on each Merida ADO terminal location, keep scrolling!
Where are the Merida ADO bus stations?
There are several bus terminals in Merida, and you can ask your Merida accommodation which one is closest. However, it's often the easiest option to just go to the main Merida bus terminal and Uber or take a cab to the place you're staying.
CAME Merida bus station (TAME Merida)
The main Merida ADO bus terminal is located in Centro Historico (Historic Downtown), and you will see it called either CAME or TAME ADO Merida bus station.
The Merida ADO bus station address for this main terminal is Calle 70 #555, Centro, Mérida, 97000, centrally located in downtown.
paseo 60 (Fiesta Americana) and altabrisa bus stations
There are smaller Merida bus stations, one at Paseo 60 (located at the NH Collection Hotel), and the Altabrisa station in North Merida.
They both have some buses from Cancun that stop at them, but the majority of buses only go to the main station, CAME Merida.
Note: The Paseo 60 terminal used to be located at the Fiesta Americana Merida Hotel, which is why you may see this terminal called Fiesta Americana, though the terminal is no longer at that hotel.
This has been the Cancun Airport to Merida ADO bus schedule for some time, but do check the ADO website because they can change it at any time.
🤑 Note: Their website is horrible for buying tickets and only shows prices in Mexican pesos, so it's easier to book your Merida bus tickets below:
Is the ADO bus safe for solo female travelers?
Yes — For most travelers it is!
In fact, you may meet other solo travelers and other Merida travelers when traveling from Cancun to Merida on the ADO bus. The bus is a safe, popular, comfortable and inexpensive option. ADO is Mexico's largest bus company, beloved by tourists and locals alike.
Best Way to Get from Cancun to Merida
5. Flights to Merida from Cancun Airport
Wondering, What's the fastest way to get from Cancun to Merida? That would be the MAYAir flight, as the Cancun to Merida flight time is only about 45-minutes, versus four hours over-land.
Now, this doesn't include any wait time in the airport — as they only have one daily flight to Merida Mexico.
✈️ MAYAir Cancun to Merida flight: Monday-Friday, 8:20pm
✈️ Merida to Cancun flight: Monday-Friday, 7:30am
✈️ Average MAYAir flight cost: $200 USD
✈️ How to book MAYAir tickets: Visit their website, mayair.com.mx
✈️ Cancun to Merida flight time: Approx. 45 minutes
You might be wondering if there are any other Cancun to Merida flights on other airlines, and there are.
However, they aren't direct flights, so you'd basically fly about 90 minutes west to Mexico City, get on another plane, and then fly two hours back east to Merida — so no bueno!
What airport do you fly into for Merida Mexico?
There is a Merida Airport — Manuel Crescencio Rejón International Airport — better known as Merida International Airport (code: MID).
There are very few direct flights from the United States, so you'd have to connect through the Mexico City Airport, Guadalajara Airport or Cancun Airport.
Best Way to Get from Cancun to Merida
6. Taxi or Uber from Cancun to Merida
Personally, I don't recommend using Uber or a taxi from Cancun to Merida, but these options are available. I am including info on both, and will explain why I say they are the worst options.
Uber from Cancun to Merida
There is Uber in Cancun, kind of. It is legal, but there are notorious clashes between taxi drivers and Uber drivers — so much so that even locals shy away from Uber.
If you do want to take one, know they aren't allowed in the Cancun Airport, so you have to walk out to the main road.
This is super annoying in Cancun's heat, and with all your luggage! From the road, you have to keep calling until a driver accepts your four hour trip, which most won't take.
According to the Uber fare estimator, it will cost about $250+USD for the trip, which is more than the cost of a private car from Cancun to Merida.
It makes more sense to reserve the car ahead of time — which will pick you up inside the airport, and be there waiting for you when you land.
How much is a taxi or Uber from Cancun to Merida?
Short answer: A LOT — about $250-350 USD, depending on your luck. With Uber, you will see the price before you agree to the trip, but since most taxis don't have meters, the drivers will just tell you a price, and hope you agree.
As you approach the airport exit, Cancun taxi drivers will start trying to get you to book with them.
Depending on how they judge your appearance (ie. how well you're dressed, if you look like it's your first time in Mexico, etc.), they'll give you that price — and it's of course highly inflated for tourists!
For this reason, you might get a price of up to $350 USD, which is more than the cost of a Cancun to Merida private shuttle.
Save yourself the hassle and haggle by just booking your private shuttle below ⤵ and someone will be there waiting for you when your flight lands.
Best Way to Get from Cancun to Merida
Merida to Cancun: Return Trip Options
To get from Merida to Cancun, you can use most of the options listed above.
If you're considering the private transfer, you get $30 OFF (see directly above ⤴) when you book round trip! With this nice discount, that's about the same price as booking round trip with the Merida car service.
If you're getting a rental car, you'll have your return trip handled — just plan to leave at least 7-8 hours before your flight!
Yes, you do need to leave that early, as the drive is about four hours, then you have to return the car, and then head to the airport for your international flight ✈️
Rather book a Cancun hotel for the night? This is what I always do, and highly recommend. ▶︎ BOOK one of my favorite cheap Cancun hotels, located in downtown rather than on the beach! If you have the time, stay two nights, and also check out Isla Mujeres off the coast of Cancun.
what not to do: Car Rental Merida Airport
Do note that most Mexico car rental companies charge a very large fee when you return a rental car to a location other than where you picked it up.
For this reason, renting a car in Merida and driving it to drop off at Cancun International Airport isn't a great choice.
In this case, your best bet is to take the ADO bus from Merida to Cancun.
Frequently Asked Questions: How to Get from Cancun to Merida
How far is Merida from Cancun (Time)?
The answer to How far is Cancun from Merida? will depend on exactly where you're headed in Merida. However, the Merida Cancun drive usually takes about 3.5 to 4 hours, depending on traffic and how many stops you make along the way.
How far is Cancun Airport from Merida (Distance)?
The Cancun to Merida distance is about 193 miles (311km). ▶︎ Head here to get a visual with this Cancun Airport to Merida map.
How far is Merida from the beaches?
The closest beach to Merida is Puerto Progreso. It is about 30 miles (45km) from Merida, and the best way to get there is the. AutoProgreso bus, which takes about 45-minutes and costs $2USD. There are buses running all day, every hour or so.
ADO Bus from Cancun to Progreso beach
Headed to one of the best Yucatan beach towns? Puerto Progreso is the most popular beach town in Yucatan, but your best bet will still be to take the ADO bus from Cancun Airport to Merida, then catch the Auto Progreso from Merida to Progreso Beach.
Is there an Airport in Merida?
Yes — It's called Merida International Airport (code: MID). There are direct flights from a few cities in the United States, like Miami and Houston, so you'd likely have to take two flights to Merida, or, fly to Cancun and use one of the Cancun to Merida transportation options listed above.
book your Flights to Cancun or Merida
FAQs: Merida Travel Guide
Where to stay in Merida Mexico
Merida basically consists of these three neighborhoods in Merida that a visitor would want to consider staying in — Downtown Merida Mexico (Centro Historico), Paseo de Montejo and North Merida. Below, you'll find info on each — or you can use these guides to book ⤵
Rosas y Xocolate Boutique Hotel & Spa
The Diplomat Boutique Hotel
Best neighborhoods in Merida Mexico
Downtown Merida: For those who have seen photos of Merida online, you've likely seen Centro Historico (Historic Downtown Merida). Known for its colorful colonial architecture, historic buildings, and authentic Yucatan food restaurants, this is the main hub of town.
Paseo de Montejo: This is the most beautiful street in Merida, with wide sidewalks to walk on, charming shops, trendy bars and numerous restaurants. Staying anywhere near Paseo Montejo, located just outside of downtown, gives you walking access to everything you'd need.
The NH Collection Merida Hotel, seen below, is located on Paseo Montejo!
North Merida: Located in the northern part of the city, about 20-30 minutes by car from downtown, this is more of a "suburban" area.
There are large shopping malls and entertainment complexes, and new construction condos, but this isn't the colonial Merida you've seen in photos.
Is Merida safe?
Short answer: Yes — for the majority of visitors, Merida is safe for travel.
Longer answer: This question is tricky, as no place is 100% safe. I do my best to address the Merida Mexico safety question in this article, Is Merida Mexico Safe for Travelers? [20+ Tips from a Local]; but, in short, the answer to the question, Is Merida safe?, is Yes.
Merida has been ranked as not only the safest city in Mexico, but one of the safest on the entire Americas Continent (including South, Central and North America) by CEOWorld magazine. In 2019, Conde Nast Traveler magazine named it the best small city in the world.
How many days do I need in Merida?
Of course, this depends on your travel style — but you could cover a lot of ground in 2-4 days, including some Merida day trips.
For those who plan to visit for just a short among of time, check out the Merida itinerary options below ⤵ with more itinerary for Merida options to come!
Is Merida worth visiting?
Admittedly, I'm biased because I live in Merida, but YES — Merida is worth visiting! Known as the Cultural Capital of the Yucatan, those who love Mayan history and Mexican culture will especially enjoy Merida.
Still an off the beaten path Mexico travel destination, Merida is starting to appear in more Mexico bucket list articles. With positive press like the 2020 Conde Nast Traveller magazine poll, which named Merida the #3 Best City in the World, it won't stay a Mexico hidden gem for much longer!
Final Thoughts: Cancun to Merida Transportation
As Cancun has one of the biggest airports in Mexico, with direct flights from around the world, you'll have no issues getting to Cancun. Hopefully you now see that once you're in Cancun, you have plenty of options about how to get to Merida from Cancun.
When factoring in convenience and price, booking private transportation in advance is the best way to get from Cancun to Merida.
For couples and solo travelers, opt for the private car hire, and for Mexico budget travel, go with the ADO bus. Besides these, a rental car also works!
Loved this post? Share & Pin it for later