12 Stunning Airbnb Merida Mexico Options [Picked by a Local]
---
Ready to book your Merida Airbnb?
You've come to the right place, because 👋 hi, I'm Shelley, and I live in Merida! That's right, you have that most coveted of travel advice at your fingertips — advice from a local — to help you determine your best Airbnb Merida, Mexico option.
I curated this list of the best Merida Airbnbs for you… and BONUS: They all have a pool 💦 The 12 Airbnbs in Merida featured are divided into three categories:
As far as Merida itself — it's gorgeous, safe (ahem, the safest city in Mexico) and provides a unique Mexico culture travel experience not found anywhere else in Yucatan. Now, just because you're traveling to an exceptional place like Merida, doesn't mean you shouldn't get your ducks in a row.
The truth is, your accommodation will either make, or break, your trip. I think we can all agree that booking the perfect Airbnb will set the tone for you having the all-around perfect Merida trip — and you're about to do just that!
Ready to discover the 12 best Airbnbs in Merida? Let's get to those, as well as three quick tips for how to pick the best Merida Airbnb, and then some Merida travel FAQs at the end of this article.
👉🏡 Please Note: Though the title says Merida Airbnbs, some properties have become unavailable on that platform. In an effort to still show you the best accommodations in Merida, Mexico, those properties will be linked out to other top-name rental services.
Best airbnb merida mexico
3 Tips for Booking a Merida Airbnb
1. How do I choose the best Airbnb in Merida?
As the saying goes: "Location, Location, Location;" so first and foremost, all Airbnbs and rentals featured in this article are located in the best Merida neighborhoods — Paseo de Montejo and Centro Historico (Historic Downtown Merida).
2. What's this electricity charge?
In Merida, it's not uncommon for some hosts to charge extra for all electricity, or for going over a certain usage of electricity; though some don't charge at all. Always make sure to carefully read each description before booking to avoid this.
For hosts who do charge, expect about an extra $3-$8USD per day. In the summers, the cost would be closer to $8, as you'll use the AC more. Keep in mind that most hosts will require this payment to be made in (cash) pesos, and turned over at check-out.
…Now, about those 12 Merida Airbnbs
Ok, so now that you know where to book your Airbnb in Merida (Downtown/Paseo Montejo), and what to look out for (dedicated parking and possible electricity charges), let's discover the top 12 best Airbnbs in Merida, Mexico. Bonus: These are all Merida Airbnbs with a pool!
The Airbnbs in this article are separated into three categories:
Budget-Yet-Chic ($$): Discover all the best options in value Airbnbs in Merida. Prices for Merida budget travel Airbnbs average about $35-75USD per night.
Mid-Range budget ($$$): These options include cushy upgrades like AC in all bedrooms, Smart TVs with Netflix, new appliances, etc. Prices average about $85-125USD per night.
Good For Groups ($$$$): These colonial style haciendas and mansions are the perfect Merida Airbnbs for groups. They also work for travelers looking to splurge on a gorgeous accommodation. Prices for these 3+ bedroom homes average about $150-225USD per night.
RELATED ARTICLE 🇲🇽 The Ultimate Merida, Mexico Travel Guide (Written by a Local)
Best airbnb merida MEXICO
1. CasaBlanca
CasaBlanca Living 3 Bed, 3 Bath Modern, Colonial, Hacienda Syle, Luxury Rental
🏡 Type: Entire House (3BR, 3BA, Sleeps 6) | 📍 Location: Barrio de Santiago | 💦 Pool: Yes!
CasaBlanca is a hacienda-style, all stone, 6,000-square-foot (558 m²) home, where you'll have total privacy, security and amenities. The home is fully equipped with the latest appliances, furnishings, decor, landscaping, lounge area and large pool, and just steps away from shops, restaurants and nightlife.
There are three bedrooms and three bathrooms in CasaBlanca. The master suite overlooks the pool, garden and cabana and has a private bathroom and sunken tub and shower. Bedrooms 2 and 3 both have "hanging beds," that make you feel you're being rocked to sleep.
After a day in Merida or at the pool, head inside to the three bathrooms, which have rain showers, robes, and luxury toiletries. Other amenities include Italian cotton sheets, ultra soft hypoallergenic pillows, a 12-foot-tall screen and projector for movie nights, open fire barbecue pit, and more.
What Past Guests Have Said:
"I can honestly say that this place rivals the best. It's a beautiful oasis in the middle of Merida. I particularly enjoyed the quality of the bedding, the fully stocked kitchen upon arrival, and the friendliness/availability of Steve and Sanda… I highly recommend this option over the local hotels and the other rentals."
"The house was even better than in the pictures. It was so comfortable and had every convenience. The beds were very comfortable. The pool was fabulous and the back garden was very thoughtfully designed… Overall it was more than we could have hoped for. We look forward to returning."
"The house is perfection! Lovely and amazing. We felt like we had our own compound. No detail has been spared. This property is so special and feels like a retreat, yet it's also homey, cozy and comfortable (we never wanted to leave during our stay). We'll definitely be visiting again :)"
---
BEST AIRBNBS IN MERIDA FOR GROUPS
2. Casona Sirenas
Casona Sirenas, a family home in historical Merida
🏡 Type: Entire House (7BR, 6BA, Sleeps 18) | 📍 Location: Parque Santa Ana | 💦 Pool: Yes!
Casona Sirenas (Mermaid Manor) couldn't be better situated in its location between Paseo de Montejo and the coveted Art Gallery District. It is a remodeled manor home from 1904, with old world charm and modern conveniences — perfect for large groups and families on their Merida trip.
There is onsite parking, but no need for a car as you're within walking distance of many of the best restaurants in Merida along the tree-lined Paseo Montejo.
This walkable street has numerous shops, restaurants, bars, cafes, coffee shops, banks, and everything you'd need. It's full of fun things to do in Merida and amazing photo ops, like the Monumento a la Patria, and cool shops like Casa Tho and Posheria Merida.
The home comfortably sleeps 18 in its seven bedrooms. There's AC throughout, a private pool, TVs, full kitchen, and everything else you could think of. For an additional fee, arrange for a housekeeper, private chef and in-home massage through the host, Antonio.
---
BEST AIRBNBs in MERIDA for Groups
3. Casa 411
Relax + Attention to Detail = Casa 411
🏡 Type: Entire House (4BR, 4BA, Sleeps 10) | 📍 Location: Centro Historico | 💦 Pool: Yes!
Casa 411 puts the "BNB" in Airbnb! This is a true, old school bed and breakfast that checks all the boxes:
✔️ Large, historic home
✔️Top-of-the-line amenities
✔️Complimentary breakfast made by their on-site chef. Have dietary restrictions and/or preferences? No worries; just let the host, Pepe, know and he'll accommodate for you.
As you can see, the space is gorgeous and the pool area couldn't be more inviting. However, when you're done with communal time, head to the bedroom; each one has their own private en suite bathroom, so each room feels like a mini suite.
It is located about a 10 minute walk from Centro Historico (Downtown Merida), and a few blocks from Wayan'e, considered to have the best tacos in Merida 🌮 (Side note: Try the cochinita pibil tacos!) This is a safe part of town, but for an added level of security, Casa 411 has 24/7 staff and a doorman.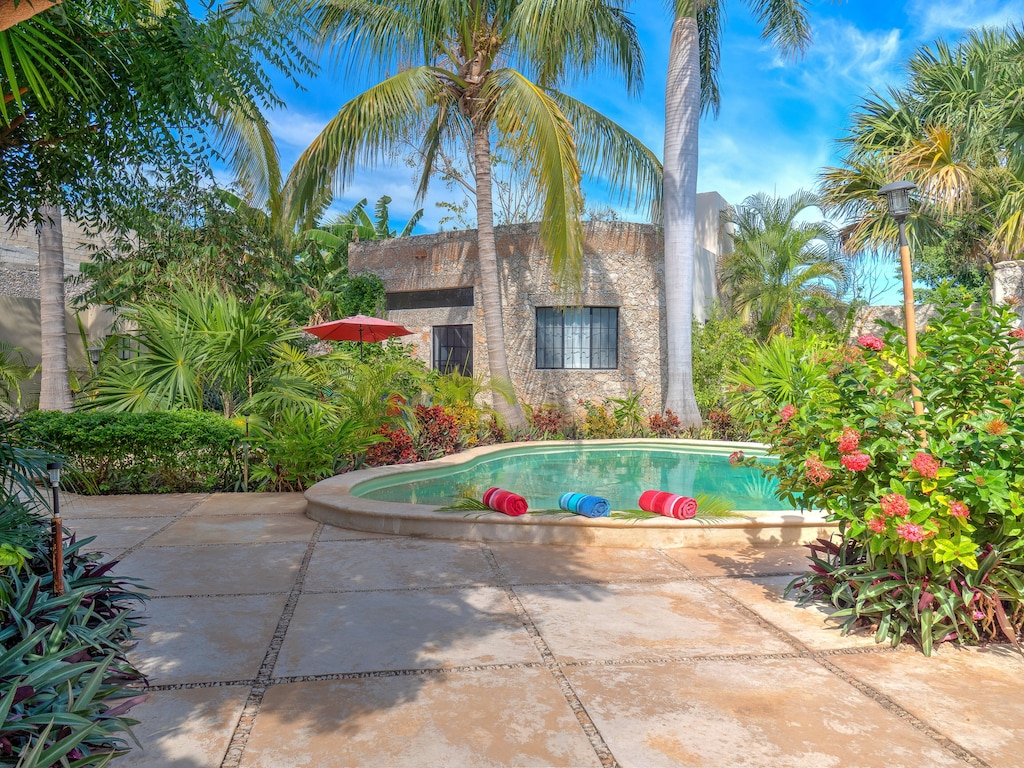 What Past Airbnb Guests Have Said:
"Pepe was a wonderful host – organizing restaurant reservations, local specialities for breakfast, Cenote trips, and even coming with me when I had to visit the doctor. [Located] a short walk from the city centre and we felt very safe walking or driving in Merida, the property also has a security guard at night."
"Pepe and his staff really makes you feel at home and comfortable. The place is very clean, great location, very safe and we would definitely recommend and go back again. The breakfast was fabulous and Pepe and his staff always responded within minutes. Highly recommend!"
"We totally recommend this place. It's a getaway from the City with a beautiful garden, nice and spacious rooms and a delicious Breakfast! Would come back anytime."
---
BEST AIRBNBS IN MERIDA FOR GROUPS
4. Villa Romantica
Villa Romantica: A True Colonial Masterpiece
🏡 Type: Entire House (3BR, 3BA, Sleeps 8) | 📍 Location: Parque Santa Lucia | 💦 Pool: Yes!
The line between indoors and outdoors is blurred in this spectacularly designed Merida home. Villa Romantica (Romantic Villa) is a spacious, bright, airy and peaceful colonial-era home that feels like an oasis in the heart of Merida's bustling Centro Historico.
Elegant and welcoming, Villa Romantica embraces you as you enter and delights you throughout your stay with 18-foot-tall (5.5m) ceilings and 20-inch-thick (51cm) walls keeps the house cool. There's AC throughout and a private pool to help with that too!
On the ground floor, there's a formal living room where you can watch Netflix and two spacious bedrooms, each with an en suite bathroom and AC. Head up the grand staircase, itself a work of art, to the master suite with two queen sized beds, AC and a private bathroom with a beautiful atrium.
Just off the bedroom, there's a huge rooftop deck with great city views — the ideal place for morning coffee and nightcap cocktails. You can also relax on the day bed beside the pool in the downstairs courtyard and enjoy the incredible ambiance created by the lighting and fountains in the pool.
---
BEST AIRBNB MERIDA MEXICO
5. Casa Escalera al Cielo
Casa Escalera al Cielo is now available for rent in historic downtown Centro
🏡 Type: Entire House (2BR, 2.5BA) | 📍 Location: Centro Historico | 💦 Pool: Yes!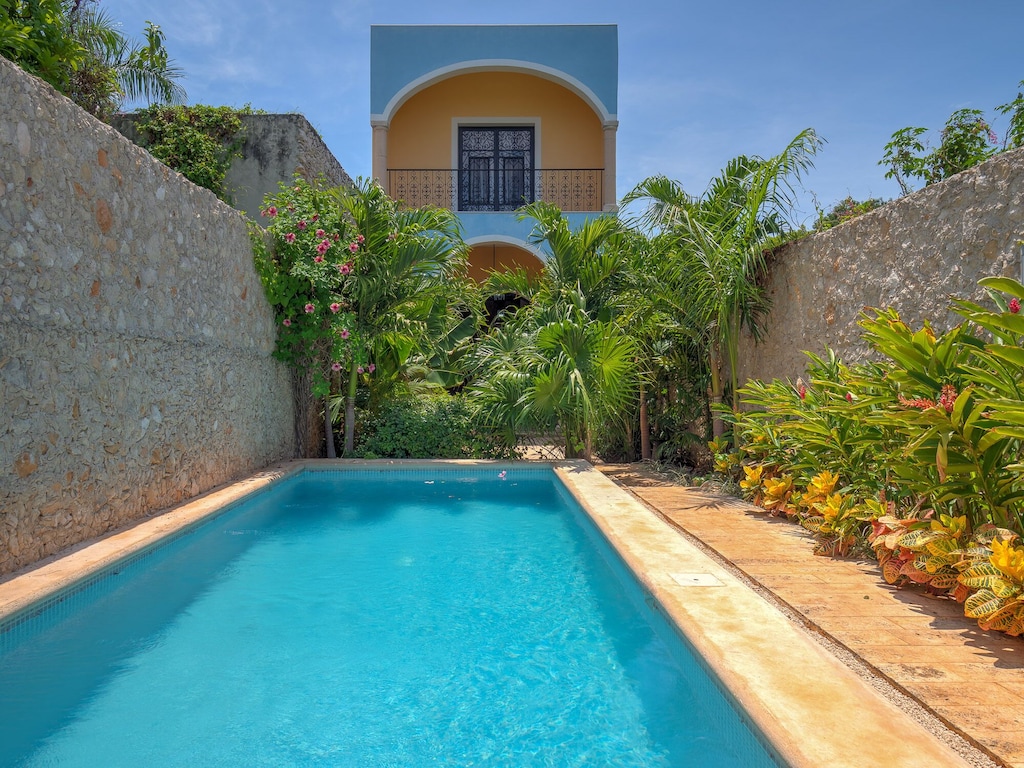 Casa Escalera al Cielo (Stairway to Heaven House) is located in Centro Historico, across the street from La Ermita Park and its beautiful colonial church. Located in a quieter part of town, about a 10-minute walk to Plaza Grande and all of downtown, this house offers the perfect relaxing Merida stay.
From the photos you can tell Casa Escalera al Cielo is a showstopper. There are actually two homes here — the main house, with the master suite upstairs, a king size bed and en suite bathroom, and a casita (small house) at the back of the property, which has two double beds and a private bathroom.
Guests have access to both houses, so it's really like renting two homes in one! Between the two homes, there's a long pool, set among a lush garden patio with an outdoor lounge area to enjoy meals and coffee. Inside, there's a 55 inch Smart TV with Netflix and open concept floor plan.
What Past Guests Have Said:
"Everything was clean. The beds were comfortable, excellent hot water showers, huge kitchen, had Netflix on television, loved the location. I felt very safe walking by myself and I am 67 and a woman… We ate from several restaurants nearby that were delicious and also went in town. It was so nice to come home and swim in the pool…."
"Glorious history meets impeccable design coupled with flawless taste. Loved every moment."
"Such a beautiful home with high ceilings, iron gates, screens, lovely pool… just an incredible experience. We loved it and highly recommend this property."
---
BEST AIRBNB MERIDA MEXICO
6. Casa Arturo
Casa Arturo- Perfect Centro/Santiago location!
🏡 Type: Entire Home (2BR, 2.5BA) | 📍 Location: Barrio de Santiago | 💦 Pool: Yes!
Casa Arturo is a new construction home, thoughtfully crafted with the perfect balance of modern architecture and Merida's classic colonial charm. This open concept, loft-style home has features 20-foot-tall (6m) floor-to-ceiling windows, with stunning views of the home's outdoor living space.
The home is located in Santiago, one of the most desirable neighborhoods in Centro Historico. It is very walkable, and truly in the perfect location for you to enjoy all the best things to do in Merida, like Parque Santiago Park and its mercado (traditional market), just around the corner.
You are also walking distance from Plaza Grande, Parque Santa Lucia and Paseo Montejo. After exploring the city, return home to a comfortable refuge with a beautiful pool and backyard to relax in under the stars.
When it's time to go to sleep, enjoy big, comfy beds, TVs with Netflix and AC in both bedrooms.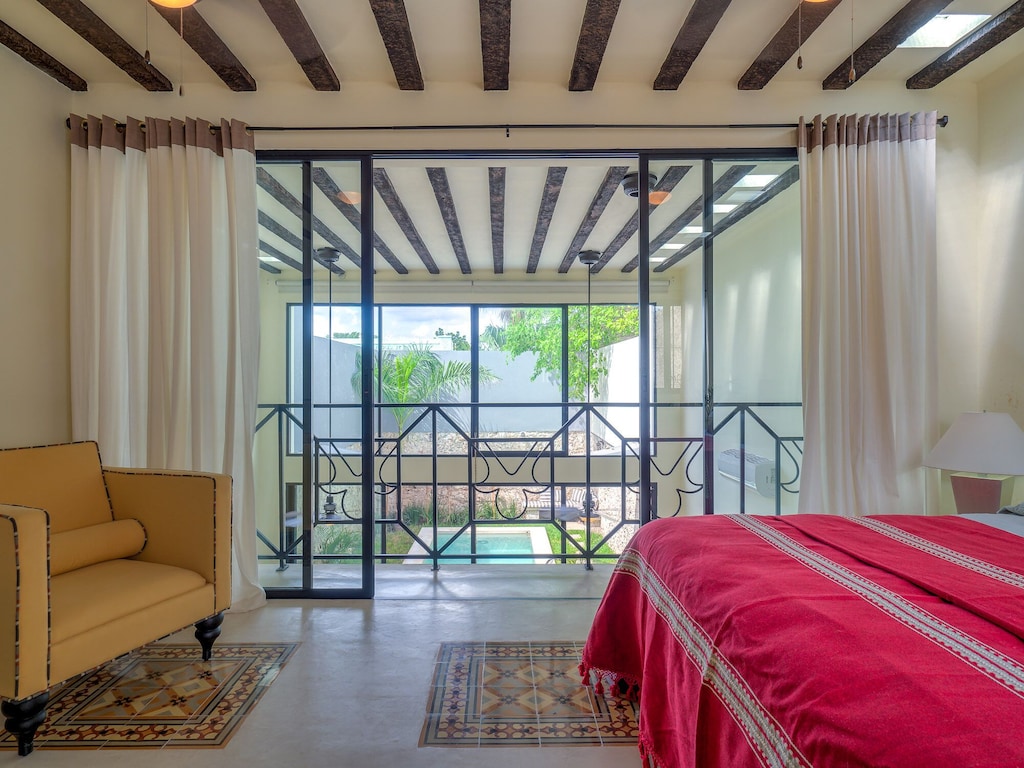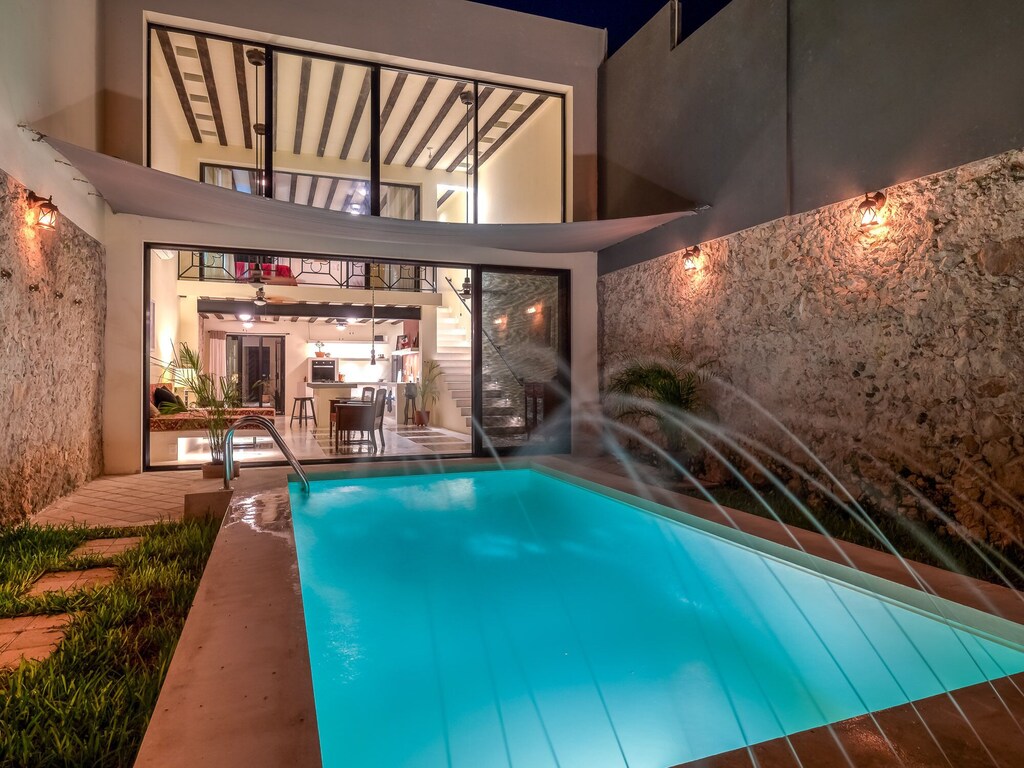 What Past Guests Have Said:
" We loved our stay at Casa Arturo, the house was very modern, uncluttered and super clean. The living areas are very comfortable and open and the owners pay very close attention to the cleanliness of the house as well as the personal comfort of the renters."
"The house had easy parking with a private garage and it's centrally located with easy walks to nearby plazas and markets. Would definitely recommend it to future renters."
"Great place to stay. Comfortable and pleasant to be in."
---
Best airbnb merida MEXICO
7. Casa Cielito Lindo
Stylish, modern colonial in heart of Merida old town, Parque de Santa Lucía
🏡 Type: Entire House (1BR, 1BA) | 📍 Location: Parque Santa Lucia | 💦 Pool: Yes!
A premium rental in the perfect area, Casa Cielito Lindo is located in one of the nicest, most centrally located areas in all of Merida, Parque Santa Lucia. It is situated between Plaza Grande, four blocks to the south, and Paseo Montejo, four blocks to the north.
Casa Cielito Lindo was designed to respect its old colonial past, with the thick mampostería (stone) walls and high ceilings typical of traditional Yucatan homes. It also has modern touches throughout to make your stay that much more comfortable, as every corner of this home is unique and inviting.
The property has one bedroom, with a cozy attached ensuite. The bedroom, living room and dining area all have dual inverter AC units to help cool those warm tropical nights. From the dining room, the view flows outdoors to the plunge pool and a gorgeous stone wall, which provides privacy.
What Past Guests Have Said:
"I loved staying at this adorable casita-it was a home away from home-only with better taste. The location is also ideal-just a few blocks from the main square and the Paseo Montejo to the other direction. It was actually hard to leave and I was lucky to extend my stay."
"Although Peter was not in town during our stay, he did give us the contact information of a manager should we need anything. We didn't. Everything was wonderful. The only thing we needed was more time! We would not hesitate to stay at Peter's apartment the next time in town."
"Wonderful stylish first floor home with comfortable furniture inside and out! King bed is very comfortable… Fans and air conditioning makes it easy to cool off the apartment on hot days. Peter is extremely helpful and quick to respond. Highly recommend Peter and his place!"
---
Best airbnb merida MEXICO
8. Casa Santiago
Casa Santiago – Long term discounts
🏡 Type: Entire House (2BR, 1BA) | 📍 Location: Barrio de Santiago | 💦 Pool: Yes!
Casa Santiago is a beautiful, newly-restored colonial oasis near Parque Santiago. The wonderful airy rooms open to the garden and patio, with artisan furniture and original artwork throughout. Enjoy indoor/outdoor living with meals and a soak in the pool on the back patio.
The location is perfect, in the heart of Merida, yet set back from the hustle and bustle. It is a 10 minute walk to Plaza Grande, the main town square, and very close to shopping, markets, cafes and restaurants. It is the perfect home base to explore Merida and the Yucatan Peninsula.
The master bedroom has a king sized bed, and the second bedroom has two twin beds; both rooms have AC. Outside, enjoy al fresco breakfast, an afternoon siesta in the hammocks, and a refreshing swim in the pool.
What Past Guests Have Said:
"What a perfect house– lots of space and absolutely loved the backyard area. We spent so much time out there in the evening with cocktails and in the mornings drinking coffee. Would stay here again!"
"Overall, Benjamin's place was great! The neighborhood (Barrio Santiago is my favorite) was quiet and the apartment is not on a busy street… Both bedrooms have air conditioning and the outdoor area with dipping pool is also very large with many beautiful plants and two hammocks for afternoon siestas!"
"I have no hesitation recommending Casa Santiago as a great place to stay. The owner, Benjamin, is very responsive… very helpful and easy to work with. It was a particularly nice surprise to find organic coffee beans and fresh pastries awaiting us upon arrival. I highly recommend Casa Santiago…"
"This is a well kept, beautiful historical home. The owner Ben met us with the keys, showed us all the details of the house, then left us to enjoy… We truly enjoyed every moment of our stay."
---
BEST AIRBNB MERIDA MEXICO
9. Casa de las Piedras
Casa de Las Piedras, Modern home in Santiago Area
🏡 Type: Entire House (2BR, 2.5BA) | 📍 Location: Barrio de Santiago | 💦 Pool: Yes!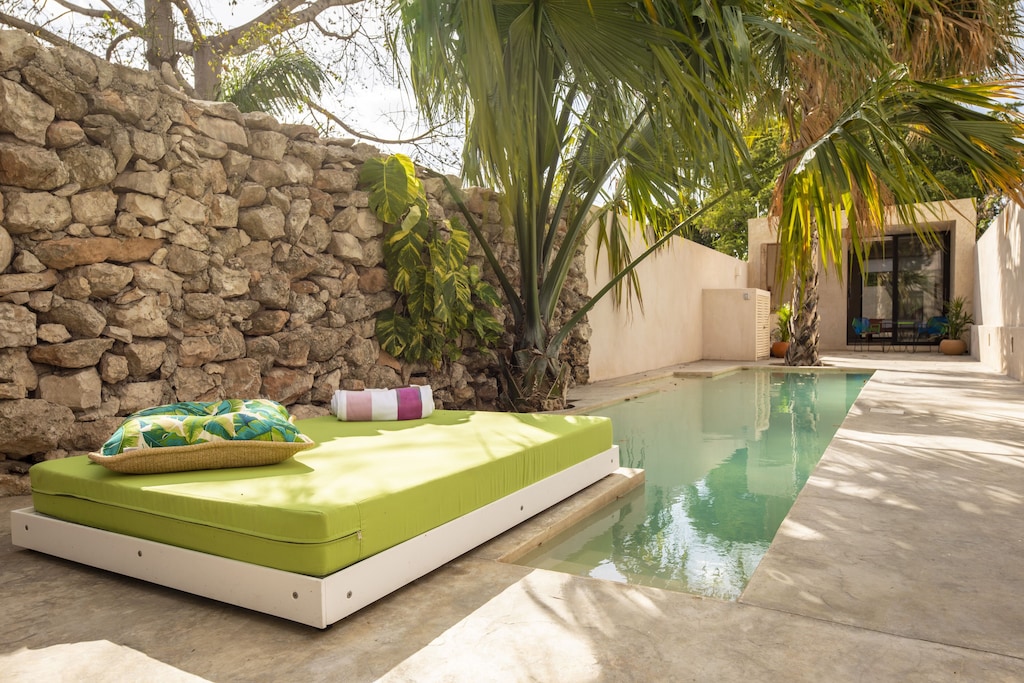 Casa de Las Piedras (House of the Stones) is a modern and cozy home, equipped with everything you need for a splendid stay in Merida, Mexico. The large, warmly decorated space welcomes you as you enter, with a view all the way out into the backyard lounge and pool area.
Enjoy the fully equipped kitchen with breakfast bar, or dine outdoors on the patio. The majestic and native palm trees outside will shade you in the afternoons as you relax on the comfortable lounge bed by the pool. Should it ever get too hot, head back inside to the comfortable living room.
The master bedroom has a king sized bed and dressing room, with access to the terrace. The back suite has two double beds, a small kitchenette with a refrigerator and coffee maker, terrace access. The entire house has AC throughout, and is beautifully lit at night with ambient lighting.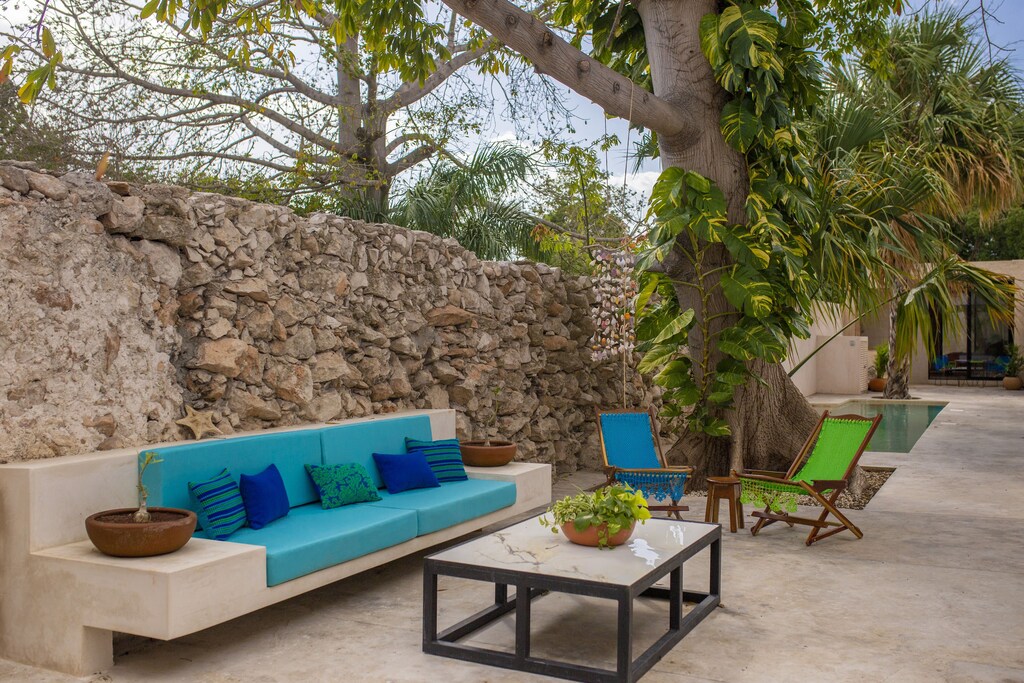 ---
BEST AIRBNB MERIDA MEXICO
10. Casa Nah Kin
Gorgeous Pied de Terre in Merida
🏡 Type: Entire House (1BR, 1.5BA) | 📍 Location: Barrio de Santiago | 💦 Pool: Yes!
Casa Nah Kin (House of the Sun in Mayan) is the ideal place to enjoy the beautiful city of Merida. it is located on a quiet street just five blocks from Parque Santiago, where you'll find a beautiful colonial church and local mercado (market), as well as nearby shops, art galleries, restaurants and cafes.
The home is a beautiful mix of contemporary and traditional design, in a colonial house with all the comforts of the 21st Century. Recently restored, Casa Nah Kin has an eclectic decor, with bright, decorative elements, calming stonework, high ceilings and traditional Yucatecan "pasta" tile floors.
Casa Nah Kin has everything you need to enjoy your stay and rest comfortably: a king size bed, en suite bathroom, smart TV, equipped kitchen with new appliances, a pool and garden area, and more. As far as the best Merida budget Airbnb goes, this one is stiff competition to the rest.
---
BEST AIRBNB MERIDA MEXICO
11. Tranquil House
House apartment in the greatest location of Merida Centro
🏡 Type: Entire House (1BR, 1BA) | 📍 Location: Centro Historico | 💦 Pool: Yes!
The airy, Tranquil House is situated in an excellent location — Centro Historico (Historic Downtown) — right in the middle of all the action. However, after a long day of exploring Merida, come home to this relaxing oasis and relax in your private splash pool.
You're within walking distance of everything you'd want or need, and all the best things to see in Merida! Step outside your door and stroll the colorful colonial streets, see the museums, art galleries, beautiful churches, cool shops, Merida's best restaurants, bars and cantinas.
Back at the Tranquil House, enjoy your morning coffee and breakfast on the back patio, or head out at night for a glass of wine before bed. Inside, there's a king sized bed, spa-like bathroom, updated kitchen, and more, to make this home feel and look like a retreat.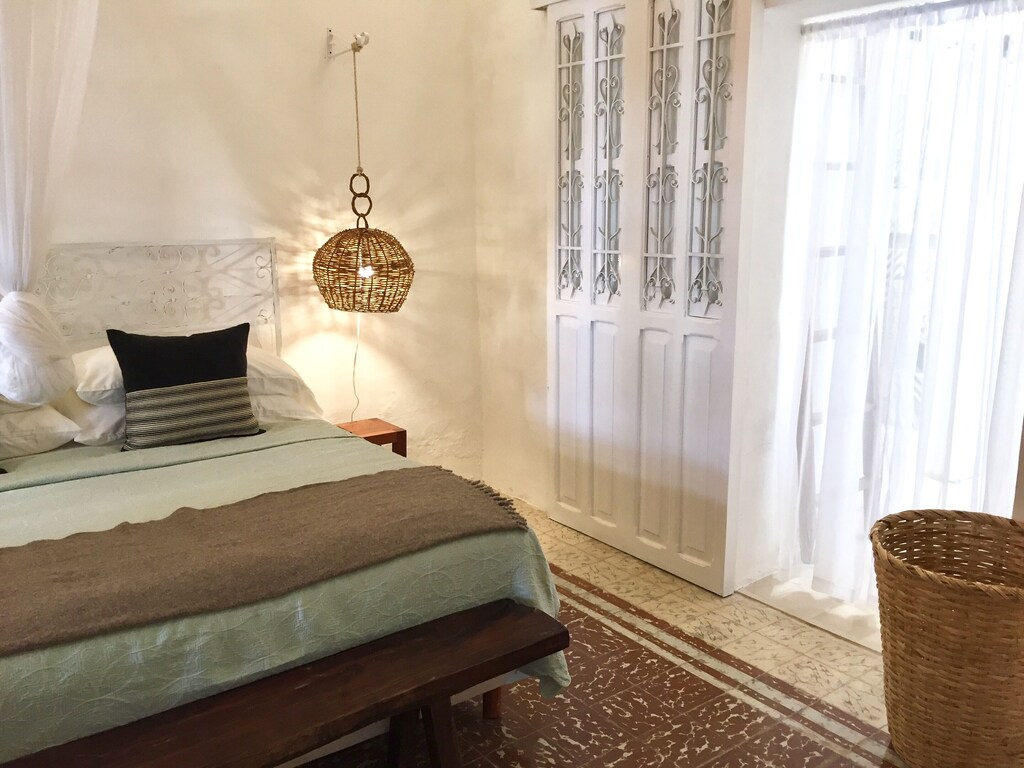 ---
BEST AIRBNB MERIDA MEXICO
12. Lotto House (Merida Hostel)
🏡 Type: Private Rooms & Studios | 📍 Location: Centro Historico | 💦 Pool: Yes!
Casa Lotto is a beautiful, newly renovated antique house, five streets from Plaza Grande (Main Plaza). It is a house with lots of light, plants, artwork, stones, tiles and antique furniture that make you live a very unique experience.
There are four private rooms, Amate, Kahlo, Barroco and Talavera, located in the main house, and two separate studio apartments, Jade Maya and Ixchel. Depending on availability, the entire house or rooms can be rented separately.
Casa Lotto's guests can make use of common spaces — kitchen, living room, swimming pool, terrace, washer and dryer. The outdoor terrace of the house is beautiful, and has a dining area and a living room with a very pleasant view of the pool and garden.
---
BEST AIRBNB MERIDA MEXICO
Merida Travel Guide & FAQ
Is Merida Mexico safe?
This is the # 1 most asked question about visiting anywhere in the country: Is Mexico safe for travel? While safety is a tricky subject, I do my best to address it in this article, Is Merida Mexico Safe for Travelers? [20+ Tips from a Local].
Given the mainstream media's demonization of the entire country, Mexico has a very bad wrap. However, this is a huge country, and yes, there are parts you should avoid — but chances are you weren't planning to head to those parts anyway — and Merida is not one of those parts!
In fact, the entire Yucatan Peninsula is considered quite safe, not just Merida. For the most part, all places in Mexico that promote tourism are safe. As tourism is Mexico's largest source of income, the federal and local governments in top travel destinations do their part to maintain safety.
RELATED ARTICLE 🇲🇽 The Ultimate Merida, Mexico Travel Guide (Written by a Local)
Is Merida safe for solo female travelers?
As mentioned, there can't possibly be a definitive answer when it comes to safety. Safety, after all, is a feeling not a fact. However, as a solo female traveler who's safely been to half the states in Mexico, I know I stayed safe by always keeping personal safety as my highest priority.
RELATED ARTICLE 🇲🇽 Mexico Solo Travel: 10 Useful Tips for Female Travelers
As far as Merida safety specifically, following the same general travel safety guidelines you'd follow anywhere else in the world, will suffice in Merida. Though it is one of Mexico's larger cities — the 13th largest city in Mexico, in fact — Merida does feel like a small town.
Is Merida safe at night?
There's no shortage of amazing things to do in Merida during the day, but don't miss out on the great Merida nightlife either.
From amazing bars like Cantina La Negrita, and dinner and live music al fresco in Parque Santa Lucia (home to Merida's famous big white chairs), don't skip the nightlife in Merida Mexico 💃🏽
Do, however, take an Uber back to your Merida hotel, Airbnb or VRBO! There is Uber in Merida, so taking it at night versus walking home alone is always a smart idea. Also, learning a few words of Spanish will help and not wearing flashy jewelry will help.
🚗💨 Merida travel tip: Uber in Mexico is much cheaper than in the U.S.! Prices will vary, but figure only about $50 pesos ($2.50USD) for a 20 minute ride.
BEST AIRBNB MERIDA MEXICO
Where is Merida, Mexico?
Merida is in the Yucatan Peninsula, a region comprised of three states — Quintana Roo (home to Tulum, Cancun and Playa del Carmen), Yucatan and Campeche — in southeastern Mexico.
As you can see on the Merida Mexico map, it is more-or-less in the dead center of the Yucatan, making it the perfect home base for so many great Merida day trips.
From cenotes to pueblos magicos (Mexico's historic "magic towns"), Mayan ruins to tropical beaches, there's so much within a few hours drive from Merida in your rental car.
merida mexico map
BEST AIRBNB MERIDA MEXICO
How do I travel to Merida, Mexico?
Wondering about flights to Merida? There's actually an airport about 20 minutes from downtown — Merida International Airport (code: MID).
There are direct flights to Merida, Mexico, from just a few cities in the U.S., like Miami and Houston. For most travelers, it's usually easier to catch a connecting flight to MID from Mexico City International Airport or Guadalajara International Airport.
From the airport, you can drive your rental car, or take an Uber, taxi, or private transport service to your accommodation. The airport is only about 25-35 minutes from Downtown Merida.
Merida Airport Transfer
Merida Car Rental
If you are looking to rent a car in Merida, the airport is the best place to do so. As Merida isn't a big city, car rental options can be limited — so do book in advance.


For travelers mostly staying in the city limits, you might want to skip a rental, but if you're planning to take a few day trips from Merida, you'll want to consider a car from Discover Cars, a reputable company for a rental car in Merida.
RELATED ARTICLE 🇲🇽 50 Best Things to Do in Merida, Mexico + FREE Map
BEST AIRBNB MERIDA MEXICO
What's the best time to visit Merida?
The best time of year to visit Merida Mexico is from October-March, when Merida's weather is cooler. May is known as the hottest, most humid month, and even us Merida expats and locals dread May! Located in the tropics, it rains pretty much daily during the peak of Merida's rainy season, June-September.

Like much of Mexico, December is the busiest month for tourism in Merida. However, December is also a festive and fun time to visit with city-wide festivals like Noche Blanca to enjoy, in addition to nice weather.
Merida Weather
best airbnb merida MEXICO
What do I pack for Merida?
Merida Mexico, and the Yucatan Peninsula, have a tropical climate. As you can see by the average yearly Merida weather chart above, this part of Mexico is hot (and humid 😥) for most of the year, so definitely pack a Water-To-Go Bottle.
As far as how to dress in Merida, think flowy, tropical, breathable, cotton, and light-colored clothing; bonus points for anything that doesn't show sweat!
FREE Printable Packing List for Mexico
Wondering exactly what to pack for Merida and all of Mexico?
Head to ULTIMATE Packing List for Mexico + FREE Checklist to download your FREE printable packing list for Mexico below — it covers both Mexico beach packing and Mexico city packing — and more importantly, what not to bring to Mexico.
RELATED ARTICLE 🇲🇽 Is Merida Mexico Safe for Travelers? [20+ Tips from a Local]
With each passing year, more and more people are finding out about Merida, Mexico, and wanting to visit this Yucatan Peninsula city. It is also fast becoming a popular city for expats and digital nomads for its lower cost of living and high quality of life.
For those who don't mind warmer temperatures, Merida will be an amazing trip. This colonial town has everything from beautiful homes and colonial architecture to Mayan culture, delicious food and historic haciendas, and even numerous day trips from Merida.
In 2019, CEOWorld Magazine declared Merida one of the two safest cities on the entire Americas Continent, based on crime level indicators. Merida ranked #21, and Quebec City ranked #3, though no other cities in North, Central or South America made the list.
If you love traveling slightly off the beaten path, Merida is the perfect lesser-known travel destination in the Yucatan Peninsula — though as such an amazing city, it won't remain one of the Mexico hidden gems for much longer.
Loved this post? Share & Pin it for later