Is Merida Mexico Safe for Travelers in 2023? [Locals' Tips]
---
Curious about Merida Mexico travel safety?
You've come to the right place to get an answer to the Is Merida Mexico Safe? question because I have lived in Merida since 2019. In this article, I'm sharing all my Yucatan travel tips with you.
As someone who's been living in Mexico since 2018, I do feel it's a safe country overall. However, since I'm just one voice in the conversation, you're going to get statistics and hear from other sources also validating Merida Mexico safety in this article.
Merida is the Safest City in Mexico
To quickly put your mind at ease, Merida is considered the safest Mexico city.
In 2019, an article in CEOWorld Magazine came out declaring Merida the safest city in Mexico and the second safest city on the Americas Continent. A similar article in Forbes magazine says it's as safe as Europe.
Merida, Mexico has also received other accolades from CEOWorld Magazine. In 2021, readers named it the #3 best small city in the world (San Miguel de Allende, Mexico was #1). Similarly, Conde Nast Traveller magazine readers named Merida the #3 best city in the world in 2020!
As safety is a common question when it comes to Mexico travel, let's dive deeper into this topic.
By the end of this article, you'll have Merida general and nighttime safety info, know what to pack for Merida to feel safer, and more — So let's dive in to discover how safe is Merida Mexico.
Is Merida Mexico Safe?
Is Merida Mexico Safe for Tourists?
Given the mainstream media's coverage of Mexico, and movies and shows about Mexico, it does seem to be a very dangerous country.
As someone who's lived in Mexico since 2018, my first hand experience has been that there are safe, less safe, and dangerous places in Mexico.
In an effort to offer other perspectives about Mexico and Merida travel safety, let's see what the experts say!
One of the best articles on this subject comes from Forbes. In it, Carlos Barron, a 25-year FBI veteran, offers a sound perspective about overall Mexico travel safety: 
"Millions of Americans go to Mexico on vacation every year, so if we play the numbers game, the number of incidents is very small… When I'm asked if Mexico is a safe place to go travel on vacation, my response is yes." —Carlos Barron
The important phrase here is "the numbers game." There's no denying bad things occur in Merida, and in Mexico, however they rarely involve tourists.
In Mexico, most violence in is related to cartels, which don't have much of a presence in Merida, Yucatan, or most tourist cities.
RELATED ARTICLE 🇲🇽 50 Essential Tips for Mexico Travel from a Long-Term Resident
Though bad things happen every single day throughout the U.S., they get written off as isolated incidents instead of labeling the country as unsafe.
Similar to the U.S., Mexico is a large country, so "playing the numbers game" also means there's more chance of isolated incidents.
Is Merida Mexico Safe?
What Airport Do I Use for Merida?
Merida International Airport (code: MID) is located about 20-35 minutes from Centro Historico (Downtown).
There are only direct flights to Merida, Mexico, from a few cities in the U.S., like Miami and Houston, so you may have to connect through the Mexico City or Guadalajara Airports.
How to Get from Merida Airport to My Hotel
From Merida Airport, you can grab an Uber or taxi curbside, or book a private transport service — see your options below for that ⤵.
If you're planning to get a rental car, the airport is the best place to pick one up because all the top companies have offices there.
Merida Airport transfer service
Is there Uber in Merida?
Yes, there is Uber in Merida and Yucatan state — though there's no Uber in the other Yucatan Peninsula states of Campeche and Quintana Roo.
Uber in Mexico tends to be cheaper than in the U.S. Prices will vary, but plan to pay about $75-100 pesos ($3.50-5USD) for 20 minute rides.
🚨 A Warning About Taking Uber From Merida Airport
From time to time, the local government really cracks down on Uber pick-ups at the airport. As this is technically illegal, you may have to walk to the main road just outside the airport to get an Uber.
If you're traveling light, it's no big deal; but with luggage it's a bit of a hassle.
As taxis price gouge the worst at the airport, you may want to consider booking private transport — which is a bargain at just $40USD for round trip door to door service! Check out all your Merida airport private shuttle options above ⤴
Is Merida Mexico Safe?
Safest Neighborhoods in Merida
Merida is the 13th largest city in Mexico, with a population nearing one million. As with any larger city like this, there are safe areas, and places to avoid.
The best places to stay in Merida for tourists and visitors are Centro Historico (Historic Downtown) and Paseo de Montejo.
Where to Stay in Merida
There are two main areas in Merida: Centro Historico/Paseo Montejo and North Merida.
Personally, I always recommend Centro Historico, the charming historic zone, where you'll find the best Merida Airbnbs, Merida hotels and also Merida hostels, like Nomadas and Casa Garza. 
Located in the north part of the city, you'll find larger homes and townhomes in areas including Montes de Ame and Francisco de Montejo.
This part of the city is more suburban, with large malls and chain stores, located about 20-30 minutes by rental car or Uber from downtown.
RELATED ARTICLE 🏡 12 Stunning Airbnbs in Merida Mexico [Picked by a Local]
Best Hotels in Merida, Mexico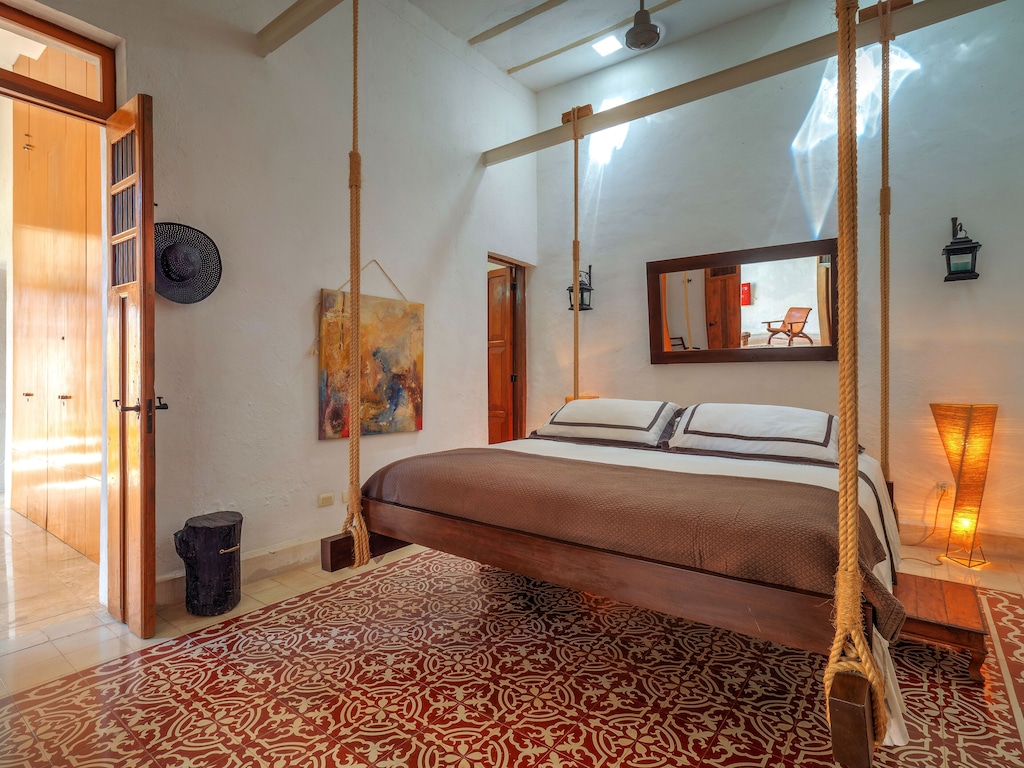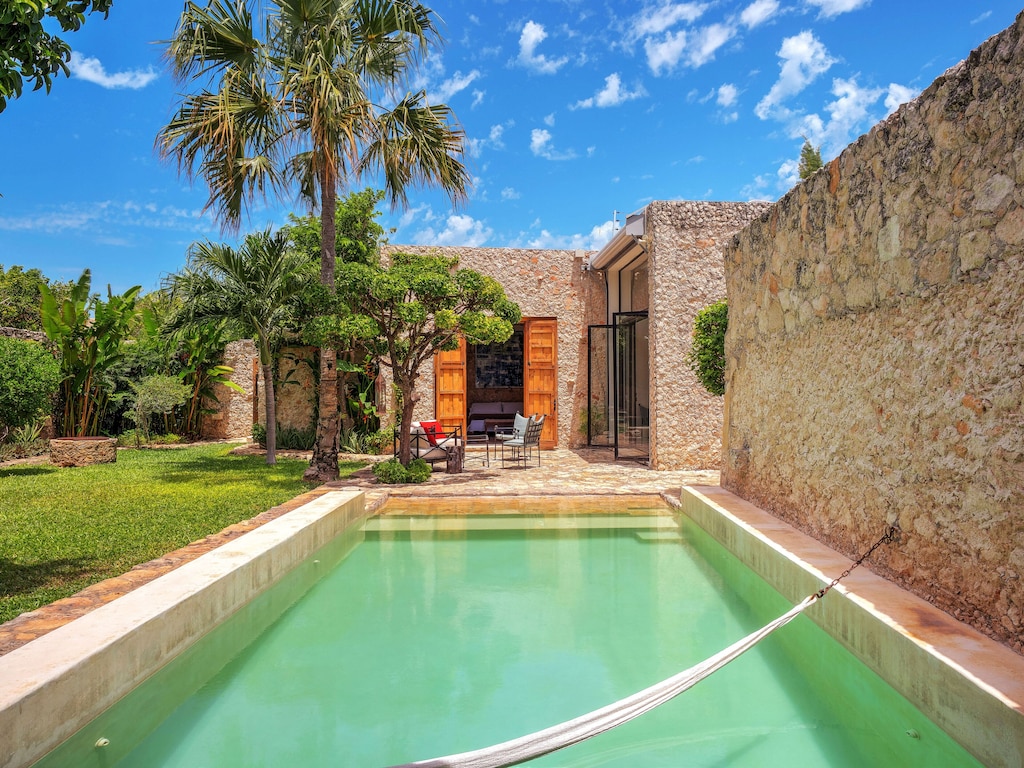 One of the best Merida VRBO homes, CasaBlanca, a renovated hacienda in Barrio de Santiago, the nicest neighborhood in Downtown. (Photos: VRBO)
Prefer a Merida hotel or resort to an Airbnb/VRBO? This city has many located right in the best Merida neighborhoods — Zona Paseo Montejo, Parque Santa Ana and Barrio de Santiago.
Here is a list with the best Merida, Mexico hotels:
Neighborhoods to Avoid in Merida
South Merida is known as the least safe part of the city — though there's nothing a visitor would want to see or do there. The area considered "South Merida" is located south of the Merida International Airport.
At the large Mercado Lucas de Galvez (market) in downtown, make sure to stay vigilant of your belongings, as sadly, pickpocketing isn't uncommon there.
Other than that, Merida is largely quite safe for the vast majority of visitors!
Is Merida Mexico Safe?
Is Merida Safe at Night?
In general, Merida isn't really any less safe at night than during the day.
The thing to keep in mind is that alcohol consumption (and overconsumption!) makes all situations and places less safe. If you're going out late at night, stick to Centro Historico (Downtown) and Paseo Montejo.
As there's Uber in Merida, it's always a good idea to Uber home instead of walking — especially if you're doing solo travel in Mexico.
The best neighborhoods in Merida mentioned above aren't big areas, so you may be calling an Uber for a five minute drive though it's better to be safe than sorry.
Are Taxis in Merida Safe?
Yes, Merida taxis are safe. You can hail one right on the street, and often drivers will quickly honk at people walking on the street to "ask" if you want a taxi. While using a Merida taxi is an option, I prefer Uber for convenience; though both are safe.
As with taxis in many places, they do tend to price gouge with tourists. Since you won't know the going rate for a taxi where you're headed, it's usually a better idea to use Uber so you get a fair price and know what you're paying up-front.
Is Merida Mexico Safe?
Is Merida Mexico Safe for Solo Travel?
I have been to half the states in Mexico, mostly as a solo female traveler. Truthfully, I never really felt unsafe anywhere, but if you are planning some Merida solo travel, take solace in the fact that this is considered the safest place in Mexico to visit.
As such, the same travel safety precautions you'd take anywhere else will suffice to keep you safe in Merida. These include listening to your intuition, avoiding the less-safe parts of town (ie. South Merida), taking Uber home at night and always staying aware of your surroundings and belongings.
If you want to see the nearby sites and don't want to go solo, there are many great Merida tours that are perfect for solo travelers.
Check out the 12 Best Merida Tours for an Unforgettable Mexico Experience to visit the Mayan Ruins, Merida cenotes and more, with a group.
RELATED ARTICLE ✈️ Is Mexico Safe for Women: 20 Mexico Solo Travel Tips You Need
Is Merida Mexico Safe?
Is Yucatan Safe for Travel?
RELATED ARTICLE 🚗💨 25 Best Places in the Yucatan Peninsula: Ruins, Beaches, Cenotes
Planning to take some day trips from Merida? Located in the Yucatan Peninsula, you'll be venturing out into this part of Mexico if you're traveling around Merida — So you may want to know if it's also safe for visitors.
In short, yes. Yucatan state, of which Merida is the capital city, is among the safest states in Mexico. However, the Yucatan Peninsula actually encompasses three states: Quintana Roo, Campeche and Yucatan.

Quintana Roo state, home to Tulum, Cancun and Playa del Carmen, is considered safe — though tourist scams are common here, as this is a tourist-heavy state. Campeche is one of the least populated states in Mexico, largely off the beaten path, and also considered safe.
Is it Safe to Drive in Yucatan and Merida?
As there are many things to do in Yucatan and amazing places to see, many do a road trip in Yucatan to cover a lot of ground in a short amount of time. For more info on renting a car and driving in Mexico, check out this article.
🚗💨 For a Merida car rental, I recommend and use Discover Cars!


Is Merida Mexico Safe?
Packing for Merida, Mexico
Merida Mexico, and the entire Yucatan, have a tropical climate. As you can see by the Merida temperatures below, this part of Mexico is hot (and humid 😥) for most of the year, so definitely pack a Water-To-Go Bottle and eco-friendly sunscreen.
Weather in Merida, Mexico
As far as Merida outfits, think flowy, tropical, breathable, cotton, and light-colored clothing; bonus points for anything that doesn't show sweat! Click on any image below to pick up some new Mexico outfits, and plan to bring your summer-wear: sundresses, sun hats and sunglasses.
Safety Items to Pack for Merida
Besides clothing, here are some things to buy for added safety in Merida:
The number one thing I recommend all travelers have is data for their phone. A TELCEL SIM Card allows you to have data while traveling, so you can call Uber, text and make calls, use your translation app, etc. For more info, see Best Mexico SIM Card (And 5 Reasons You Need to Buy One).
Some travelers use an anti-theft backpack or anti-theft purse, which have locking zippers, slash-proof fabric and more.
A door stopper with sound alarm will both prevent someone from entering your rental home or room, and make a loud 120-decibel sound if they try to.
The hidden bra pocket hides some money and a credit card in a small pouch that clips onto your bra (similar to a travel money belt, but totally inconspicuous).
The Water-To-Go Bottle filters your water so you don't get sick while in Mexico — because the more healthy you are, the better decisions you make, the safer you stay. 💸 Get 15% OFF with code SOLO15 at checkout!
Is Merida Mexico Safe?
Is it Safe to Drink the Water in Merida?
NO — Tap water in Mexico is unsafe to drink for anyone; not for locals, not for Merida expats (like me!) and not for visitors, so no one drinks it. To make Mexico water safe to drink, you'd have to boil it or use a Water-To-Go Bottle.
Because Merida water is unsafe to drink, you can drink bottled water, which is readily available. However, not all bottled and filtered water is created equal and of exceptional quality, and single use plastics from disposable water bottles are horrible for the environment!
So what can you do? Enter the Water-To-Go Bottle, your secret weapon in how to avoid Mexico sickness during travel, and also practice responsible travel in Mexico! This bottle has a built-in filter, so you don't get sick in Mexico while traveling to Merida, but you do stay hydrated.
Is it Safe to Eat Salad in Mexico?
A widespread myth circulating the internet is you must avoid salads and fresh fruits in Mexico, as veggies and fruits are washed in tap water. Again, as tap water isn't safe, locals don't wash produce in it, as that would get them sick too.
In Mexico, produce wash is widely used, but you can also bring your own for an added safety measure. This will especially come in handy if you plan on shopping in the local Merida markets a lot, as you can sample all the delicious local, tropical fruits.
Is Ice in Mexico Safe?
Another myth circulating is that you'll want to avoid ice in Mexico — which is quite simply, false. In fact, in Merida's hot weather you'll want it more than ever! As mentioned, even locals don't consume tap water as it's not safe for them, so they certainly don't make ice with it.
Is Merida Mexico Safe?
Is Merida Safe to Live?
As someone who's lived in Merida since 2019, I definitely feel it is! The one caveat is that you must make personal safety your highest priority.The best way to keep safe is by not living in the least-safe part of the city — South Merida.
If you've been inspired to check Merida out through Instagram, YouTube and social media, the photos you've seen haven't been of South Merida, so don't worry. The parts you've seen, and the best parts of Merida, include Centro Historico/Paseo de Montejo and North Merida.
There are pros and cons to both areas, and where you select will depend on your budget, lifestyle, needs and deal breakers. For example, Centro Historico (Historic Downtown) is charming and beautiful, but it's the most touristy part of town and many buildings are older.

North Merida has new construction buildings with nice amenities for very reasonable prices. However, it lacks the character and charm of Downtown, and can feel quite suburban. You'll also want a car if you live here, so while rents may be cheaper, you'll have that added expense.
Your best bet is to start out with a short term Merida Airbnb or Merida VRBO rental. Once you're physically in the city and have a visual on the lay of the land, you'll be able to make the best decision on what part of the city works for you.
RELATED ARTICLE 🏡 12 Stunning Airbnbs in Merida Mexico [Picked by a Local]
Is Merida Mexico Safe?
Top 10 Quick Merida Mexico Safety Tips
If you read the whole article, you should now know everything you need to know about Merida safety. If you skipped down to the bottom (don't worry, we all do it sometimes!), here are the "cliff's notes" and 10 top safety tips for traveling in Merida!
1. Don't walk home alone at night, especially if you've been drinking. In general, always take an Uber back to your accommodation at night, even if it's just a short walk.
2. Avoid South Merida! There are so many things to do in Merida, and none of them are in the south. Stick to the safest areas only — Centro Historico, Paseo de Montejo and North Merida — by selecting one of these 12 Stunning Airbnbs in Merida Mexico [Picked by a Local].
3. Keep some cash in your pocket, or even a side pocket in your anti-theft purse, so you don't have to pull your whole wallet out every time you make a purchase.
4. Never keep your phone in your back pocket, as this is the easiest place to steal it from. Though uncommon in Merida, it's known to happen in the bustling Lucas de Galvez market.
5. Never leave valuables unattended! Take your purse, book bag and belongings into the bathroom with you, rather than asking a cafe neighbor to watch them.
6. Don't drink the water in Merida! While no one drinks tap water in Mexico, not all bottled water is created equal. A Water-To-Go Bottle filters your water for an added layer or protection, so you don't get sick while traveling to Merida. 💸 Get 15% OFF with code SOLO15 at checkout!
7. Sunscreen and a sun hat are your friends! Merida is rather close to the Equator, making the sun's harmful effects much stronger. Stay hydrated with your Water-To-Go refillable water bottle, apply eco-friendly sunscreen often, and always wear your sun hat and sunglasses.
8. Leave valuables and your passport in the safe at your Merida hotel, hostel or Airbnb/VRBO.
9. Brush up on your Spanish! A little Spanish goes a long way in Merida, especially if you're venturing out of town on some Merida day trips. The free Duolingo app is a great resource, or for a more in-depth course, Rocket Spanish will have you confident and conversational in only a few modules.
10. Get travel insurance! If there's one certainty about travel, it's that something will not go according to plan. Scroll down to get a free quote from World Nomads ⤵
Mexico Travel Insurance for Merida
Just because Merida is the safest city in Mexico doesn't mean you shouldn't take the same travel safety measures you'd take anywhere else. Depending on your needs, you can add in everything from Covid coverage to Mexican driving insurance.
Just as you insure your car, home and body, you can also insure your luggage, belongings and health while traveling.
If Mexico and Merida travel safety are on your mind, get your free quote below from World Nomads, one of the biggest names in travel insurance.
Is Merida Mexico Safe?
So What's the Verdict: Is Merida, Mexico Safe?
Merida is widely considered the safest city in Mexico. It is located in Yucatan state, which is said to be one of the safest states in Mexico. To see which places the U.S. State Department has issued warnings about, head to their site.
Now, this does not mean you should let your guard down and assume safety is a guarantee. In fact, that might be the worst thing you can do for your own personal safety.
While Merida Mexico crime rates are low, you'll still need to take general travel safety precautions listed below.
Need more Merida travel info? Check out this Merida, Mexico Podcast!
Is Merida Worth Visiting?
As someone who has lived in Merida since 2019, I'm admittedly biased. However, I will say this is a special city on a number of levels — it's safe, beautiful, historic, walkable, oh, and of course, the yummy Yucatan food 🤤
I have visited about half the states in Mexico, including all the big name Mexico destinations, and I chose Merida as my home base. With its proximity to so many other places in the Yucatan Peninsula, it makes for a great spot to vacation in Mexico.
As it's still an off the beaten path Mexico destination (for now!) you can still have an affordable Merida trip. If you follow the tips in this article, it will also be a safe trip to Merida!
Merida Travel Planning Guide
Loved this post? Share & Pin it for later