Renting a Car in Merida: Everything You Need to Know
---
Planning to get a rental car in Merida, Mexico?
You've come to the right place — because I live in Merida — and have a lot of Merida car rental experience! In this article, I'll walk you through the whole process so that by the end, you'll feel confident about renting a car in Merida.
If you're ready to get your Merida car rental, I recommend and personally use, Discover Cars. They search both international and local companies so you always get the best rates. I also always get their full coverage insurance — which is usually less than $10 USD per day.


Right off the bat, if you're looking into renting a car in Merida (and Mexico), you may have already encountered some conflicting information.
There are definitely official rules for how to rent a car in Mexico, and then there's how things play out in the real world.
Don't worry! By the end of this article, you'll know what to do to rent a car in Mexico, and also what not to do!
Ready to learn all about how to rent a car in Merida? Let's get to it, starting with the most frequently asked questions about renting cars in Mexico.
renting a car in merida mexico
Renting A Car in Merida FAQs
Is driving in Mexico safe?
For the most part, it is considered safe to drive in Mexico. The one obvious caveat to that statement is you'll be driving in another country, where you're unfamiliar with local customs and driving laws.
Below, you'll find 10 Merida Mexico driving tips that will help you get comfortable with how to drive in Merida, the Yucatan Peninsula, and anywhere in Mexico.
Is it safe to drive in Merida Mexico?
Short Answer: Yes — For the vast majority of visitors, it is perfectly safe.

Long Answer: You'll want to exercise more caution than usual, as drivers in the Yucatan aren't known as the best in the country.
As someone who's originally from Florida, I'll say that drivers in Merida have about as good of a reputation in Mexico as Floridian drivers in the U.S. (ie. not great 😂)
Is it safe to drive in Yucatan?
If you're planning for any Merida day trips, you'll be venturing the region Merida is in, known as the Yucatan Peninsula.
There are so many amazing places to visit in Yucatan and things to do in Merida just outside the city that many opt for a Yucatan road trip to cover a lot of ground in a short amount of time.
The entire Yucatan Peninsula — home to Cancun, Tulum, Playa del Carmen, Riviera Maya, Bacalar Lagoon, Holbox Island and more — is a very tourist-friendly place. Merida itself has been called the safest city in Mexico, but the entire Yucatan Peninsula is also very safe for driving and travel.
RELATED ARTICLE 🇲🇽 Safe Solo Female Travel in Mexico: 20 Tips & Safe Destinations
renting a car in merida mexico
Should I rent a car in Merida?
Renting a car in Merida gives you freedom — both to venture off the beaten path and do some day trips from Merida, and the freedom to explore at your own pace.
With many tours, you only have a limited amount of time to explore, but with your own rental, you set the schedule.
🏝 Want to visit all the amazing Merida cenotes Yucatan has? You'll definitely need a rental car, as those are quite remote — though you can also do a Merida cenotes tour.
However, if you are only planning to stay in the city itself, you probably won't want a rental.
The public transportation in Merida isn't great, but you can always use Uber and taxis. Uber won't always pick you up from the airport, so check out your Merida Airport transfer options below ⤵
Note: If you want to use Uber, make sure you have a Mexico SIM card with data.
Merida Airport transfer
Merida Airport Car Rental
If you're definitely getting a car rental, Merida Airport (Code: MID) is the best place to do so. The vast majority of car rental company offices are located there.
There are other places in town, like the mall at Fiesta Americana Merida Hotel, if the airport won't work.
renting a car in merida mexico
How much does renting a car in Merida cost?
Mexico car rental rates will always vary, but figure about $35-45 USD per day for an economy car with full coverage insurance.
As you read through this article, you'll discover why you can't believe the first price you see quoted online, which will show much lower than $35-45 USD.
renting a car in merida mexico
What Do I Need to Rent A Car in Merida?
As far as what's required for to get your Merida Mexico car rental, there are only four things you need to have:
1. A Valid Driver's License
If you have a valid driver's license from the U.S., or one in any language using the Roman alphabet (this alphabet), you can rent a car in Merida and Mexico with it.
Drivers from countries like China and Japan, which use the character alphabet, will need an International Driving Permit, or IDP. 🪪 Need an IDP? Apply for one here.
2. A Valid Credit Card or Debit Card
When you rent a car in Merida, they will swipe your credit or debit card to have on file in the event you damage the car. Different companies hold a different amount of money, but it's usually about $2,000 USD.
Note: With full coverage insurance, they often don't hold any money.
When leaving a card on file for your Merida car rental, opt for the credit card over your debit.
When you use the debit for this, the money will be removed from your account (then returned when you return the car), but with the credit card, it's just on hold and not temporarily taken.
3. You Must be 25 to Rent A Car in Merida
As with the U.S., people ages 25 and older can rent a car in Mexico from any company.
Some companies rent to drivers ages 21-24, though they'll add in a $10-25USD per day surcharge for underage drivers. The amount will depend on the company, so always double check before booking.
There is a very small minority of Mexico car rental companies that rent to drivers ages 18-20. Most of the big name companies (like Hertz, Avis, etc.) will not do this, but you can always double check by calling.
4. Mexican Car Insurance is Mandatory
There is a whole section of this article that will explain everything you need to know about getting the best Mexican auto insurance, as it's a big topic.
If you want to jump ahead, here's the link to find out all about getting insurance to drive in Mexico.
However, do you know you will need dedicated car insurance in Mexico.
Your U.S. insurance company will likely not provide you any coverage while you're driving in Mexico, or anywhere outside the U.S. You can always double check with them, but it's not common that they do.
One of the best options is to purchase the Explorer Plan with World Nomads, one of the best Mexican travel insurance providers.
With this specific Explorer Plan policy, you'll have both Merida Mexico travel insurance and the required car insurance. Note: This is only offered on the World Nomads Explorer Plan. Get your FREE quote today!
renting a car in merida mexico
What's the Best Car Rental Merida Company?
Many big name U.S. car rental companies have offices in Merida, like Enterprise, Avis, Budget and Hertz.
If you prefer to use a Mexican company to support the local economy, opt for NuCar, which I have personally used and liked, America Car Rental Merida or Mex Rent A Car Merida.
🚗💨 Ready to book your Merida car rental? Use the link to book directly with Discover Cars, which searches all national and local companies to get you the best rates.
Where do I book a Merida car rental?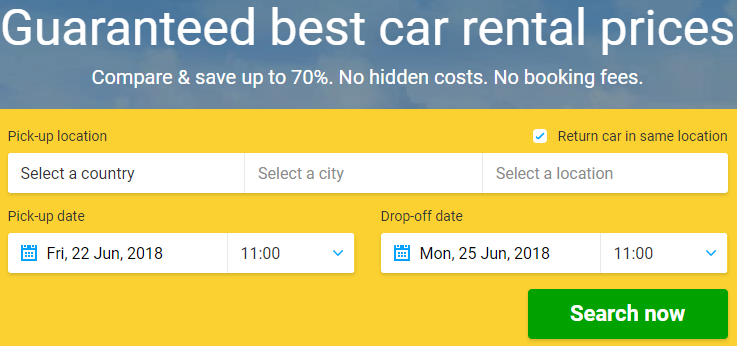 I always use Discover Cars, which searches all the companies listed above.
Using an aggregate search service means you find great deals because Discover Cars checks all the best Merida car rental companies, both national and local at once, so you get the lowest prices.
renting a car in merida mexico
Do I Need Mexican Car Insurance?
Yes — You do need insurance for driving in Mexico. At the minimum, Mexican Personal Liability Insurance is legally required for you to drive in Mexico.
While Merida car rental companies can't force you to buy insurance from them — some will try, and the most you can do is argue with them, and at worst, they won't let you rent the car.
When I rent, I opt for full coverage through Discover Cars so I know what I'm paying before I book. While full coverage isn't always cheap, it pays for peace of mind.
For the least amount of headaches on your Mexico trip, full coverage essentially allows you to return the car in any condition and never have to pay a single cent more for dings and damage.
How much Is Mexico car insurance?
Different companies price coverage differently, but in general, Personal Liability Insurance (the minimum coverage) is about $20 USD per day. For full coverage insurance, plan to pay about $35 USD per day.
With just Personal Liability Insurance, you'll usually have about a $2,000USD deductible, whereas there is no deductible with full coverage, since you could total the car and you'd be covered.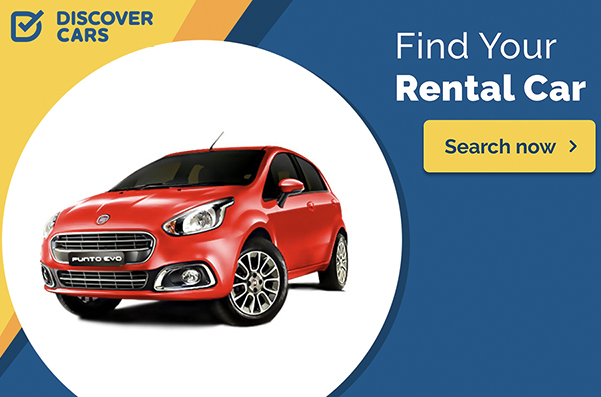 What is a Mexico Car Insurance Deductible?
If you have a $5,000 deductible, and you cause $5,250 in damage to the rental car, you're responsible for paying the $5,000 "deductible."
The insurance will then kick in to cover the remaining $250, after you pay your $5,000 deductible amount.
As what you select will depend on your budget, do know that cheap Mexican car insurance is one of those "you get what you pay for" situations.
If you're wondering what's the best Mexican car insurance — The answer is full coverage with no deductible with any insurance company!
Get Mexico travel insurance with car insurance included
Another option is to purchase a travel insurance policy for Mexico, and get an upgrade to include your rental car.
Since travel insurance is always a good idea, many are purchasing a policy already, so you can opt for a relatively inexpensive upgrade to include your rental car.
For this, purchase the Explorer Plan with World Nomads, one of the best Mexican travel insurance providers and top names in travel insurance. Note: This is only offered on the World Nomads Explorer Plan.
What if I have car insurance through my credit card?
Some U.S. credit cards provide insurance for card holders — so check with your before traveling to Merida. However, as with most "free" things, there's always a catch!
For example, if anything happens to the car, you often have to pay for the damages out of pocket when you return the car in Mexico. You'll then file a claim with your credit card, and hope they eventually reimburse you.
This could take months, if it happens at all.
I have been in Mexico long enough, and heard enough horror stories, that I 100% always tell people not to rely on this.
If you do opt for credit card coverage, call them and double check what they provide and their reimbursement policy, so you know you're comfortable with it.
renting a car in merida mexico
What is the Mexican Car Rental Scam?
What's known as a scam that's specific to renting a car in Mexico, is a common practice at U.S. car rental companies as well.
About a year before writing this article I booked my Miami rental car online For $400USD. When I showed up, there was an additional $200USD in fees, taxes and additional insurance costs I had to pay in order to take the car.
If this scenario has also happened to you, then you're already familiar with the "Mexico car rental scam," which is actually not unique to Mexico.
The scam in question is really that most renters don't read the fine print (who does?!) and aren't aware of the fees, taxes, etc., that get tacked on.
For many, you end up paying about 25-40% more than what was quoted online when you booked, which is frustrating, though not a scam per se.
How to Avoid this Common Mexico Travel Scam
When renting a car in Mexico, you may see rates as low as $5-10 USD per day — and if this seems too good to be true, it is.
This base cost doesn't factor in a whole slew of fees, taxes and the legally-required Mexico car rental insurance, all of which you do have to pay for.
To avoid this most notorious of Mexico travel scams, double the price you see online for the car if you're taking the minimum insurance, and triple it for full coverage. This new amount is closer to what you end up paying anyway — and now you'll feel less scammed.
🧮 Use This Formula to Estimate Your Total Price
For a car listed online as $10 USD per day, assume you'll actually pay $20 per day for this car with Mexico Personal Liability Insurance (minimum coverage), and $30 per day with full coverage Mexican insurance.
Annoying? Sure; but this is how car rental companies seem to work 🤷‍♀️
What is the Mexico gas station scam?
A second scam can happen at the gas station. As you'll see in #7 of the 10 Mexico Driving Tips below, gas stations aren't self-serve. This means an attendant will pump your gas in Merida and you don't even have to get out of the car.
The scam comes in when the pump hasn't been fully reset before they start to pump your gas. What you'll want to do is just take a look that the pump is set to 0.000 before they pump your gas.
On a personal note, this has never happened to me; I've only heard of it happening.
renting a car in merida mexico
10 Merida Mexico Driving Tips
1. Don't Drive in Mexico at Night
When you live in Mexico long enough, you start to realize many people simply avoid driving at night, if they can. If you do drive at night, stick to only main roads and paid highways, called cuota roads (pronounced koo-woh-tah).
2. Always Use the cuota Roads (Mexico Toll Roads)
In Mexico, there are libre, or free roads, and cuota, or paid toll roads. For longer drives, and when traveling between cities, always opt for paid roads. Yes, they cost money, but they are much better maintained and generally considered safer.
🤑 Merida Travel Tip: Always have pesos for the tolls, as cards aren't accepted.
3. Merida Speed Limit Signs are in Kilometers per Hour
Mexico street signs are in kilometers per hour, not miles per hour — and for those curious, 1 mile is 1.6 kilometers.
Rather than doing conversion math while driving, just make sure the speed limit sign number on the road matches your car's speedometer number.
4. Download an Offline Map for Merida Driving
Your cell signal will go in and out as you travel through rural areas of Mexico, so you'll want to download an offline map from Google Maps or Maps.Me. While you're at it, don't forget to download some podcasts and songs.
5. Mexico Traffic Lights Have an Extra Step
In Merida and all Mexico, stop lights go from green to yellow, to flashing yellow for a few seconds, to finally, the red light.
6. Beware of Topes (Mexico Speed Bumps)
Mexican roads are notorious for their abundant amount of topes (pronounced toe-pays).
While some places have signs alerting you to the topes, keep your eyes on the road at all times, because many topes (speed bumps) won't have a sign — Yes, even on highways!
6. Mexico Gas Stations Aren't Self-Serve
When you stop for gas, an attendant will pump it for you and take your payment. When they finish, it's customary to tip them at least $10-20 pesos ($0.50-1 USD), as Mexico gas station attendants rely on tips.
⛽️ Merida Travel Tip: Check out the info above regarding the gas station scam in Mexico.
7. Window Cleaners May Approach You at Stop Lights
When you're at a stop light in Mexico, you'll often be approached by someone wanting to clean your car windshield.
If you want them to, there's no set amount to pay, but $5-10 pesos (about $0.25-0.50 USD) is a standard amount. You can also just say, "No, gracias."
9. It's Illegal to Use Your Cell Phone While Driving in Merida
Not only is this unsafe, it is also illegal in Mexico. In fact, having your phone in your hand is a ticketable offense, so don't even hold your phone while driving.
10. Bribes for Mexican Cops are the Norm
If the cops pull you over — and they usually only will if you give them a reason to — they will expect a cash "payment" in exchange for not ticketing you.
I can't defend this practice, but I can say the easiest way to make the problem go away is by paying them.
🤑 Merida Travel Tip: Only keep $1,000 pesos ($50 USD) in your wallet while driving and keep the rest of your cash elsewhere.
If you get pulled over, take out your wallet, make it clear you only have those $1,000 pesos in your wallet, and hand over the money.
Final Thoughts: Renting A Car in Merida Mexico
A Mexico road trip is one of the best ways to see the country; especially in places like the Yucatan Peninsula, of which Merida is a part.
Even if you're not doing a full road trip, the easiest way to explore all of the amazing Merida day trip options is by rental car.
Driving in Mexico is generally considered safe, and renting a car in Merida is a (mostly) simple, hassle-free process.
For the sake of convenience, pick up your Merida car rental when you arrive at Merida International Airport after you fly in.
One of the most important things to keep in mind for a Mexico car rental, is to rent with a reputable company like Discover Cars. Make sure you also purchase Mexican car insurance, as you're not covered in any way through your U.S. policy.
Driving to Merida from the U.S. or Canada? Check out this guide, Driving to Mexico: Everything You Need to Know, for more information.
Mexico Car Rental Blogs
Check out these linked guides so you understand the process at car rental agencies throughout the country, and you avoid getting scammed when renting a car in Mexico.
Merida Travel Planning Guide
🚑 Should I buy Mexico travel insurance?
100% YES! — With basic coverage averaging just $5-10 USD per day, enjoy peace of mind with a plan from Travel Insurance Master, one of the biggest names in travel insurance. (Read more)
💧Can you drink the water in Merida?
No — You'll want to buy a Water-To-Go Bottle, which filters your drinking water so you don't get sick from drinking water in Mexico, and helps keep you hydrated while traveling Mexico. (Read more)
🚙💨 Is it safe to rent a car in Merida?
Yes — Renting a car in Mexico is one of the best ways to see the country! I always rent with Discover Cars, which checks both international companies and local Mexican companies, so you get the best rates. (Read more)
📲 Will my phone work in Merida?
Maybe — It depends on your company, so check with your provider. If you don't have free Mexico service, buy a Telcel SIM Card. As Mexico's largest carrier, Telcel has the best coverage of any Mexico SIM Cards. (Read more)
🏩 What's the best way to book my Merida accommodation?
For Mexico hotels and hostels, Booking is the best site. If you're considering a Mexico Airbnb, don't forget to also check VRBO, which is often cheaper than Airbnb! (Read more)
✈️ What's the best site to buy Mexico flights? For finding cheap Mexico flights, I recommend Skyscanner.
🎫 Do I need a visa for Mexico?
Likely Not — U.S., Canadian and most European Passport holders don't need a visa for Mexico; but check here to see if you do need a Mexico travel visa. The majority of travelers will receive a 180-Day FMM Tourist Visa upon arrival.
Loved this post? Share & Pin it for later